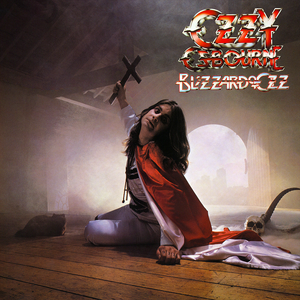 Album: Blizzard of Ozz
Artist: Ozzy Osbourne
Release Date:
Album Tracks:
Blizzard of Ozz is a heavy metal album by Ozzy Osbourne, recorded in Surrey, U.K. and released on September 20, 1980 in the UK and on January 15, 1981 in the US. This is Osbourne's first solo album and one of the two studio albums he recorded before guitarist Randy Rhoads' death in March 1982. The tracks "Crazy Train" and "Mr. Crowley" were released as singles. The former peaked at #9 on the Mainstream Rock Charts and has remained a staple of pop, hard-rock, and classic-rock radio for more than 25 years; it remains Ozzy's most recognizable song. Blizzard of Ozz remains Osbourne's highest-selling album to date, shifting over 4.1 million copies in the U.S. alone. Reception The album reached #21 on Billboard's Pop Albums chart, and is on the list of the top 100 best-selling albums of the 1980s. It is notable for having achieved multi-platinum success even without the benefit of a Mainstream Top 40 single. Uncut (8/02, p.112) - 3.5 out of 5 - "Surprisingly melodic." Kerrang! (p.53) - "[A] work of genius....[With] some superb songs, many of which are now regarded as timeless classics." Controversy The song "Suicide Solution" has been criticized for its lyrics that allegedly encouraged suicide, and was alleged to be a direct cause in the October 1984 suicide of John McCollum, a fourteen year-old fan who shot himself while listening to Osbourne's records. The boy's parents sued Osbourne and CBS Records for "encouraging self-destructive behavior" in young persons who were "especially susceptible" to dangerous influences (McCollum et al. v. CBS, Inc., et al.). In his defence, Osbourne said that the song was really about the untimely death of AC/DC vocalist Bon Scott, who perished due to alcohol-related causes just months before Blizzard of Ozz was released. Bassist Bob Daisley, however, contradicts this, claiming that he wrote the song about Osbourne's own dangerous abuse of alcohol and drugs.[1] The McCollums' complaint was dismissed on the grounds that the First Amendment protected Osbourne's right to free artistic expression. In 1986, Daisley and drummer Lee Kerslake sued Osbourne for unpaid royalties, eventually winning songwriting credits on Blizzard of Ozz and Diary of a Madman. The 2002 reissues of these albums are derided by fans due to the substitution of the original bass and drum tracks of Daisley and Kerslake for new ones by Osbourne's then-current drummer Mike Bordin and bassist Robert Trujillo. Fans and critics generally felt the move was dishonest, especially as no indication of the changes appears on the exterior packaging or sleeves of the altered albums (although stickers indicating this were later added.) Osbourne's wife and manager, Sharon, explained the re-recordings in a press conference: "Because of Daisley and Kerslake's abusive and unjust behaviour, Ozzy wanted to remove them from these recordings. We turned a negative into a positive by adding a fresh sound to the original albums." Daisley and Kerslake deny the allegations of "abusive behaviour" and continue to battle for royalties owed them for their work on Blizzard of Ozz. On the 2002 re-release, on the non-label side of the cd there is a backwards phrase which can be read by reading from a mirror - 'lostprophetsstartsomething'. Track listing All songs written by Ozzy Osbourne, Randy Rhoads, and Bob Daisley except where noted. Side one "I Don't Know" – 5:16 "Crazy Train" – 4:56 "Goodbye to Romance" – 5:36 "Dee" (Instrumental) (Rhoads) – 0:50 "Suicide Solution" – 4:21 Side two "Mr. Crowley" – 4:55 "No Bone Movies" (Osbourne, Rhoads, Daisley, Lee Kerslake) – 3:53 "Revelation (Mother Earth)" – 6:09 "Steal Away (The Night)" – 3:28 2002 Bonus Track "You Lookin' at Me Lookin' at You" – 4:16 Personnel Ozzy Osbourne - Vocals, Harmony Vocals, Producer Randy Rhoads - Guitar, Producer Bob Daisley - Bass, Gong, backing vocals, Harmony Vocals, Producer Lee Kerslake - Drums, percussion, Bells, Tympani [Timpani], Producer Additional personnel Don Airey - Keyboards Rudy Sarzo - Bass Production Max Norman - Engineer User-contributed text is available under the Creative Commons By-SA License; additional terms may apply.