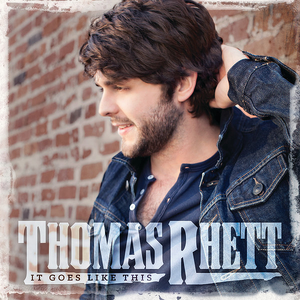 Album: It Goes Like This
Artist: Thomas Rhett
Release Date:
Album Tracks:
It Goes Like This is the debut album by American country music singer Thomas Rhett. It was released on October 29, 2013, via Valory Music Group. It includes the singles "It Goes Like This", "Get Me Some of That", and "Make Me Wanna". It also includes the previously released singles "Something to Do with My Hands" and "Beer with Jesus" from Rhett's prior self-titled EP release. The album received positive reviews from critics. Steve Leggett of Allmusic rated the album 3.5 stars out of 5, saying that "It's a solidly professional outing, featuring all three of his singles and other tracks of similar construction, and it's full of energy, good humor, and the kind of backroad good-old-boy wisdom that everybody seems to love these days, even if it feeds more off nostalgia than reality." Giving it 4 out of 5 stars, Matt Bjorke of Roughstock called it "a very good, musically diverse debut album, an album which should find some sort of an audience. User-contributed text is available under the Creative Commons By-SA License; additional terms may apply.