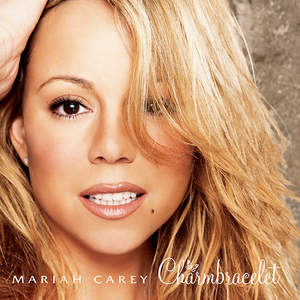 Album: Charmbracelet
Artist: Mariah Carey
Release Date:
Album Tracks:
Charmbracelet is the ninth studio album by American singer-songwriter and producer Mariah Carey, released on December 3, 2002, through MonarC Entertainment and Island Records. The album was her first release since her breakdown following the release of her film Glitter (2001) and its accompanying soundtrack album. Critics described Charmbracelet as one of her most personal records, following 1997's Butterfly. Throughout the project, Carey collaborated with several musicians, including Jermaine Dupri, Jimmy Jam and Terry Lewis, 7 Aurelius and Dre & Vidal. According to Carey, love is the album's main theme, and the songs combine introspective and personal themes with celebration and fun. The album contains a mixture of R&B beats, and the songs incorporate elements of other genres, such as gospel and soul. Compared to Glitter, which featured a variety of sampled melodies from the 1980s, Charmbracelet has a softer hip hop and R&B sound to it. Cam'ron, Jay-Z and Freeway also appear on the album. Charmbracelet debuted at number three on the US Billboard 200 chart, and sold 241,000 copies in its first week. The album peaked within the top 40 in seven countries, including top ten positions in Japan and Switzerland, and sold an estimated three million copies worldwide. Three singles were released to promote the album. The lead single, "Through the Rain" reached the top ten in Canada, Switzerland, Sweden and Italy and the United Kingdom. In the US, it topped the Hot Dance Club Play chart, but stalled at number 81 on the Billboard Hot 100. Carey embarked on the Charmbracelet World Tour, and performed 69 shows in over eight months. She also performed on televised shows such as the 30th annual American Music Awards, Today and The Oprah Winfrey Show. User-contributed text is available under the Creative Commons By-SA License; additional terms may apply.