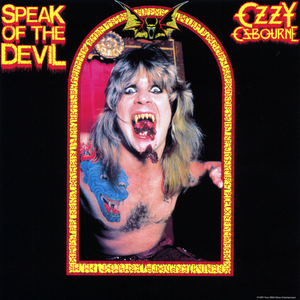 Album: Speak Of The Devil
Artist: Ozzy Osbourne
Release Date:
Album Tracks:
Speak of the Devil is an album by Ozzy Osbourne, featuring only Black Sabbath covers. It was released on November 27, 1982. This release was named Talk of the Devil in the UK, that being the more commonly expressed idiom there. The album sleeve states that it was recorded at The Ritz in New York on the 26th and 27th of September 1982. No ROIO of either show exist, which is unusual given the number of Osbourne's early shows that do exist in that form. Osbourne's vocals appear to be double-tracked, which is a technique he uses in the studio, and there has been speculation that the album is not as 'live' as it purports to be. Furthermore, in a June 2007 interview with producer/engineer Max Norman posted at KNAC.COM, he states that the album features 3 songs that were recorded during the rehearsal for the show rather than the show itself. The songs were then completed with additional tracks of crowd noise. Norman did not identify specifically the songs.[1] This is the only official Osbourne recording to feature Night Ranger guitarist Brad Gillis, who had stepped in for the recently deceased Randy Rhoads, following Bernie Torme's brief stint. Ozzy has publicly disowned the album, saying it was only recorded due to pressures from the record label. In April 2002, this album was deleted from the Ozzy catalogue and is no longer being made. However, the album is still available for legal download from sites like iTunes. The song "Sweet Leaf" was omitted on initial Compact Disc releases of the album, due to 'timing restrictions'. It was restored, however, when the album was remastered in 1995. This is the only Osbourne album with Rudy Sarzo, who left to rejoin Quiet Riot less than a month later. Brad Gillis also left to join Night Ranger. Bob Daisley, who had been the bassist for both of the previous studio albums, would continue in that role, while Jake E. Lee would replace Gillis for the next album, Bark at the Moon. Speak of the Devil was released one month before Ozzy's old band Black Sabbath released Live Evil. In the USA, sales of Speak of the Devil were much better than those of Live Evil. In the UK it was Live Evil which attained the higher chart-placing: figures on ultimate sales are not widely available. There is a video with the same name, but it has different content. In that video, Ozzy performs his own songs plus some Black Sabbath covers. The band line-up is the same of Osbourne, Gillis, Sarzo, Aldridge and Airey. Track listing All songs written by Ozzy Osbourne, Tony Iommi, Geezer Butler and Bill Ward. Side one "Symptom of the Universe" – 5:41 Originally from Sabotage "Snowblind" – 4:56 Originally from Black Sabbath, Vol. 4 "Black Sabbath" – 6:04 Originally from Black Sabbath Side two "Fairies Wear Boots" – 6:33 Originally from Paranoid "War Pigs" – 8:35 Originally from Paranoid "The Wizard" – 4:43 Originally from Black Sabbath Side three "N.I.B." – 5:35 Originally from Black Sabbath "Sweet Leaf" – 5:55 Originally from Master of Reality "Never Say Die" – 4:18 Originally from Never Say Die! Side four "Sabbath Bloody Sabbath" – 5:34 Originally from Sabbath Bloody Sabbath "Iron Man"/"Children of the Grave" – 9:12 Originally from Paranoid Originally from Master of Reality "Paranoid" – 3:10 Originally from Paranoid [edit] Personnel Ozzy Osbourne - vocals Brad Gillis - guitar Rudy Sarzo - bass Tommy Aldridge - drums The release of Speak of the Devil as a Black Sabbath covers album was an idea by Ozzy Osbourne's record company, who wanted a response to the Black Sabbath Live Evil LP, which came out at the same time and included Black Sabbath songs with Ronnie James Dio as the singer. This is why Osbourne claims to have been pressured by his record company. The album art of Speak of the Devil contains two cryptic writings utilizing a runic alphabet. Upon decoding, the front cover states: "Howdy Dial A Demon Productions in conjunction with Graveyard Graphics, proudly presents the madman of rock dumping in El Satano's toilet." While the inside cover pays homage to Randy Rhoads: "A tribute to Randy Rhoads, Axeman. That kid was my lifeline, Y'Know ? he was such a dynamic player and I'd rather not talk about it anymore because it cuts me up every day of my life. Randy Rhoads Rest In Peace And Love."[2][3] The back cover spells out "Ozzy Osbourne Rock and Roll Madman." Some of the songs contain profanity that are slightly muted. However it can be heard as one listens very carefully. The cover was partially censored in some stores. The cover depicts a fanged Ozzy with blood (actually raspberry jelly) oozing from his mouth. The stores put a sticker over his mouth to obscure the "blood". Once Ozzy discovered this, he demanded that the sticker be removed or he would have his record company pull the album from those stores. Not wanting to lose the album sales of an Ozzy Osbourne recording, the stores adhered to Ozzy's wishes. User-contributed text is available under the Creative Commons By-SA License; additional terms may apply.