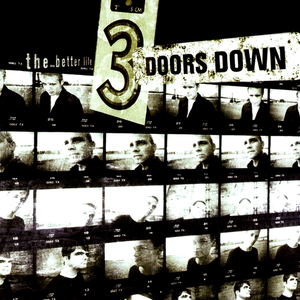 Album: The Better Life
Artist: 3 Doors Down
Release Date:
Album Tracks:
The Better Life is the first studio album by 3 Doors Down, released on February 8, 2000. It has become 6 times Platinum since release. Lyrics are written by the lead singer, Brad Arnold, and the music is written by Todd Harrell, Chris Henderson, and Matt Roberts, all of whom are musicians in 3 Doors Down. Brad played drums on the album. "Kryptonite", "Loser", and "Be Like That" all reached the Billboard Hot 100 charts, peaking at #3, #55, and #24, respectively. The album was the 11th best-selling album of 2000 with more than 3,000,000 records sold in that year. The Better Life sold 6 million copies worldwide. It is the band's best-selling album to date, with sales of over 5,550,000 copies in the United States, as of July, 2009. User-contributed text is available under the Creative Commons By-SA License; additional terms may apply.