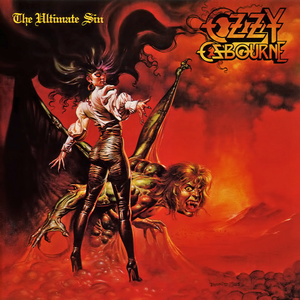 Album: The Ultimate Sin
Artist: Ozzy Osbourne
Release Date:
Album Tracks:
The Ultimate Sin is an album by Ozzy Osbourne. It was released on February 22, 1986, and it was remastered and re-issued on August 22, 1995. This album was certified double platinum on October 26, 1994[citation needed]. This album also features former Mickey Ratt, Rough Cutt, and Dio guitarist Jake E. Lee. This is the only Ozzy Osbourne album to feature bassist Phil Soussan, who wrote the album's U.S. hit single "Shot in the Dark". This was the first Ozzy Osbourne album to feature drummer Randy Castillo, who has since died due to cancer. Lyrics were largely written by long-time Osbourne bass player Bob Daisley, who was also present during the initial writing sessions. Daisley left after having a disagreement with Osbourne which led to the hiring of Soussan. He was also not credited as a co-writer on the initial 1986 pressing of the album. This was corrected for each pressing after that. "The Ultimate Sin" was Osbourne's highest charting studio album. The RIAA awarded the album Platinum status on May 14 1986, soon after its release: it was awarded 2 x Platinum status on October 26 1994. In April 2002, this album was deleted from the Ozzy catalog and is no longer being made, due to legal issues between Osbourne and Soussan over the track "Shot in the Dark." The most recent issue is the 1995 remastered CD, which, unlike other more recent Osbourne reissues, does not include any bonus tracks. It is, however, still for sale in the iTunes Store. The album was ranked #22 on Metal-Rules.com list over the 50 greatest glam metal albums. Track listing All songs written by Ozzy Osbourne, Jake E. Lee and Bob Daisley except where noted "The Ultimate Sin" - 3:45 "Secret Loser" - 4:08 "Never Know Why" - 4:27 "Thank God for the Bomb" - 3:53 "Never" - 4:17 "Lightning Strikes" - 5:16 "Killer of Giants" - 5:41 "Fool Like You" - 5:18 "Shot in the Dark" - 4:16 (Osbourne, Phil Soussan) Personnel Ozzy Osbourne - vocals Jake E. Lee - guitar Phil Soussan - bass Randy Castillo - drums Additional Personnel Mike Moran - keyboards User-contributed text is available under the Creative Commons By-SA License; additional terms may apply.