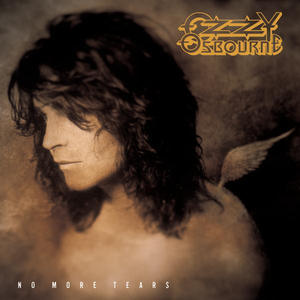 Album: No More Tears
Artist: Ozzy Osbourne
Release Date:
Album Tracks:
No More Tears is an album by Ozzy Osbourne. It was released on September 17, 1991 and it was re-issued on August 22, 1995. Guitarist Zakk Wylde contributed songwriting and guitar to the album, while Motörhead's bassist/vocalist Lemmy wrote the lyrics for four songs. Although Mike Inez is seen playing bass in several of the album's videos, long-time Ozzy bassist Bob Daisley plays on the entire album. Though Inez was an official member of the band, the Osbournes had a longstanding working relationship with Daisley and had also asked him to write lyrics, as he did for all of Ozzy's '80s releases. While his bass playing remains on the album, Daisley's lyrics were not used. Inez is credited as a writer for the title track: although he does not perform on the song the intro bass riff was his. This is Ozzy's second album to be certified 4x Platinum by the RIAA. Track listing All songs written by Ozzy Osbourne, Zakk Wylde, and Randy Castillo, except where noted. "Mr. Tinkertrain" - 5:55 "I Don't Want to Change the World" (Osbourne, Wylde, Castillo, Lemmy Kilmister) - 4:04 "Mama, I'm Coming Home" (Osbourne, Wylde, Kilmister) - 4:11 "Desire" (Osbourne, Wylde, Castillo, Kilmister) - 5:45 "No More Tears" (Osbourne, Wylde, Mike Inez, Castillo, John Purdell) - 7:22 "S.I.N." - 4:46 "Hellraiser" (Osbourne, Wylde, Kilmister) - 4:51 "Time After Time" (Osbourne, Wylde) - 4:20 "Zombie Stomp" - 6:13 "A.V.H." - 4:12 "Road to Nowhere" - 5:09 2002 Remaster Bonus Tracks "Don't Blame Me" - 5:06 "Party with the Animals" - 4:17 "Don't Blame Me" is the B-Side from the "Mama, I'm Coming Home" single. "Party With the Animals" is from the Buffy the Vampire Slayer soundtrack. Personnel Ozzy Osbourne - vocals Zakk Wylde - guitar Bob Daisley - bass Mike Inez - bass/inspiration and Musical Direction Randy Castillo - drums John Sinclair - keyboards User-contributed text is available under the Creative Commons By-SA License; additional terms may apply.