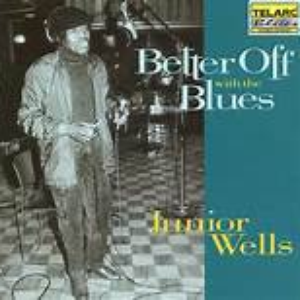 Album: Better Off With the Blues
Artist: Junior Wells
Release Date:
Album Tracks:
Wells sings with a salty edge and clarity that are convincing and engaging, and he maintains his good humor even when saddled with less than first-rate material. He provides winning renditions of Ray Charles' "The Train," Merle Haggard's "Today I Started Loving You Again" and Jimmy Reed's "Honest I Do," plus a good reworking of his own "Messin' With The Kid" and "Goin' Home." But the song that tears the house down is "Oh, Pretty Woman," featuring flashy, exciting guitar from Rico McFarland and Wells' swirling harmonica adding secondary fire. Indeed, Wells' harp playing's another bonus; it's focused and aggressive here. This is pretty good for a 1990s session. User-contributed text is available under the Creative Commons By-SA License; additional terms may apply.