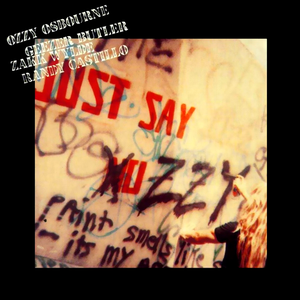 Album: Just Say Ozzy
Artist: Ozzy Osbourne
Release Date:
Album Tracks:
Just Say Ozzy is a live album by Ozzy Osbourne. Released on March 17, 1990 and it was re-issued on August 22, 1995. It contains the track "Shot in the Dark", first recorded in the Jake E. Lee era and is said to be Ozzy's preferred version. Although the sleeve states this to have been recorded at London's Brixton Academy, the gig never made any of the UK music papers either as a review or as a 'forthcoming event' and the crowd is, plainly, not a British one. Indeed, comparison of the audience noise on this mini-album and from Ozzy's MTV'd show at the Philadelphia Spectrum in 1989 shows it to be one and the same. The music, however, IS different,and it seems that the Philadelphia crowd noise was added to a different gig. In April 2002, this album was deleted from the Ozzy catalog and is no longer being made. However, like the other discontinued Ozzy albums, it is still available on iTunes. Track listing "Miracle Man" (Ozzy Osbourne, Zakk Wylde, Bob Daisley) - 4:01 "Bloodbath in Paradise" (Osbourne, Wylde, Daisley, Randy Castillo, John Sinclair) - 5:00 "Shot in the Dark" (Osbourne, Phil Soussan) - 5:33 "Tattooed Dancer" (Osbourne, Wylde, Daisley) - 3:47 "Sweet Leaf" (Osbourne, Tony Iommi, Geezer Butler, Bill Ward) - 3:22 "War Pigs" (Osbourne, Iommi, Butler, Ward) - 8:24 Personnel Ozzy Osbourne - vocals Zakk Wylde - guitar Geezer Butler - bass Randy Castillo - drums John Sinclair- keyboards User-contributed text is available under the Creative Commons By-SA License; additional terms may apply.