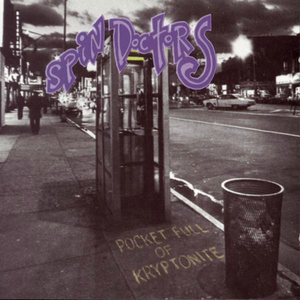 Album: Pocket Full Of Kryptonite
Artist: Spin Doctors
Release Date:
Album Tracks:
Pocket Full of Kryptonite is the first studio album by American jam band Spin Doctors, released in August 1991. It peaked at #1 and #3 on Billboard's Heatseekers and Billboard 200 albums charts, respectively. The album's title is a reference to Kryptonite, a fictional substance from the Superman mythos, and the phone booth on the cover is a reference to several comic book stories where Clark Kent would duck into a phone booth to change into his Superman costume. The title is a line from the album's first track, "Jimmy Olsen's Blues", which refers to Jimmy Olsen, a supporting character from the same mythos, supposedly being attracted to another character, Lois Lane, and is jealous of Lane's romantic feelings for Superman. The full line, "I've got a pocket full of Kryptonite", is a sexual double entendre. User-contributed text is available under the Creative Commons By-SA License; additional terms may apply.